Detecting novel viral strains with One Codex and Twist Viral Research Panels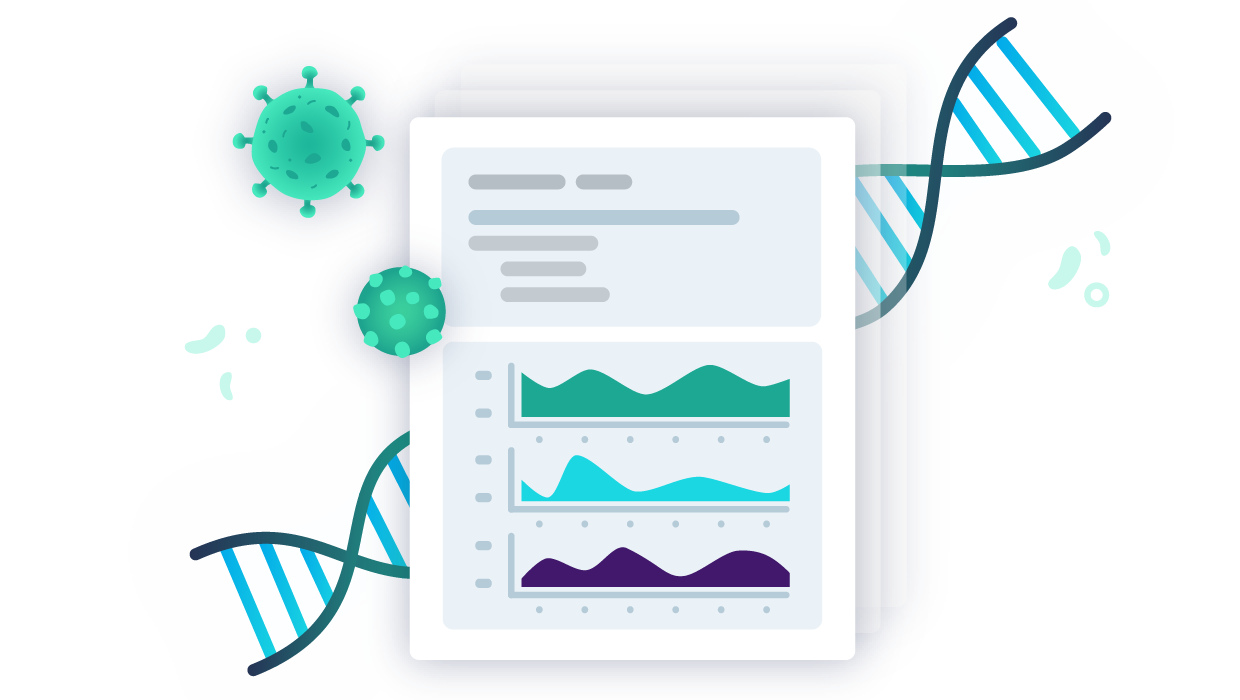 Sequencing viral genomes from mixed microbial community samples is challenging due to the relatively low quantity of viral reads compared to host and/or background. One Codex and Twist Bioscience have co-developed targeted enrichment-based sequencing and analysis kits for recovery of whole viral genomes from high-background samples1. This semi-targeted approach enables enrichment of known viruses while still capturing novel viruses.
The Twist Viral Research panels bundled with One Codex analysis are available in two versions. The Twist Respiratory Viral Research panel covers 29 human and respiratory viral pathogens. The larger Twist Comprehensive Viral Research Panel covers 3,153 viral pathogens known to infect both humans and animals2. Both versions have been applied across public health, medicine, academia and industry in diverse use cases, such as evaluating wastewater viromes3, characterization of emerging pathogens4, discerning the infectious agent in an outbreak5, evaluating co-infections6, and novel strain detection6, 7.
Viral consensus genomes are often the starting point for downstream analyses such as in lineage/strain identification, phylogenetic analysis, genomic surveillance and outbreak investigation. To streamline and standardize these analyses, we have added automated viral consensus genome generation to the analysis of all our viral research panels (Figure 1). Our approach to consensus genome generation is based on published best practices and is optimized for data generated using both Twist viral enrichment panels. To find out more about the bioinformatics methods, see our documentation. Output consensus FASTA files can now be found via links provided in the PDF report (Figure 1, sample report).
Ordering and product information for the Twist viral research panels and the bundled One Codex analysis can be found using the links below. If you have any questions about the Twist Viral Research Panels, custom panel design, genomic analysis, or surveillance tools, feel free to reach out using the chat widget on this page or by emailing us at hello@onecodex.com.
Figure 1 - Example Twist Respiratory and Comprehensive Viral Research Report. Analyses now include a "Viral Consensus Sequences" section with a link to files generated through processing genomes from detected and indeterminate viruses.
Ordering & Product Information
References
Detecting Respiratory Viruses with Twist and One Codex [Internet]. 2020 [cited 2023 Aug 21]. Available from: https://onecodex.com/blog/2020/08/25/detecting-respiratory-viruses-with-twist-one-codex/
Comprehensive Viral Research Panel - Twist Bioscience [Internet]. [cited 2023 Feb 2]. Available from: https://www.twistbioscience.com/products/ngs/fixed-panels/comprehensive-viral-research-panel
Tisza M, Cregeen SJ, Avadhanula V, Zhang P, Ayvaz T, Feliz K, et al. Comprehensive Wastewater Sequencing Reveals Community and Variant Dynamics of the Collective Human Virome [Internet]. medRxiv; 2023 [cited 2023 Aug 21]. p. 2023.05.03.23289441. Available from: https://www.medrxiv.org/content/10.1101/2023.05.03.23289441v1
Ciuoderis KA, Berg MG, Perez LJ, Hadji A, Perez-Restrepo LS, Aristizabal LC, et al. Oropouche virus as an emerging cause of acute febrile illness in Colombia. Emerg Microbes Infect. 2022 Dec 31;11(1):2645–57.
Servellita V, Sotomayor Gonzalez A, Lamson DM, Foresythe A, Huh HJ, Bazinet AL, et al. Adeno-associated virus type 2 in US children with acute severe hepatitis. Nature. 2023 May;617(7961):574–80.
Kim KW, Deveson IW, Pang CNI, Yeang M, Naing Z, Adikari T, et al. Respiratory viral co-infections among SARS-CoV-2 cases confirmed by virome capture sequencing. Sci Rep. 2021 Feb 16;11(1):3934.
Crispell G, Williams K, Zielinski E, Iwami A, Homas Z, Thomas K. Method comparison for Japanese encephalitis virus detection in samples collected from the Indo-Pacific region. Front Public Health [Internet]. 2022 [cited 2023 Aug 21];10. Available from: https://www.frontiersin.org/articles/10.3389/fpubh.2022.1051754