The Brand New One Codex Database has Arrived!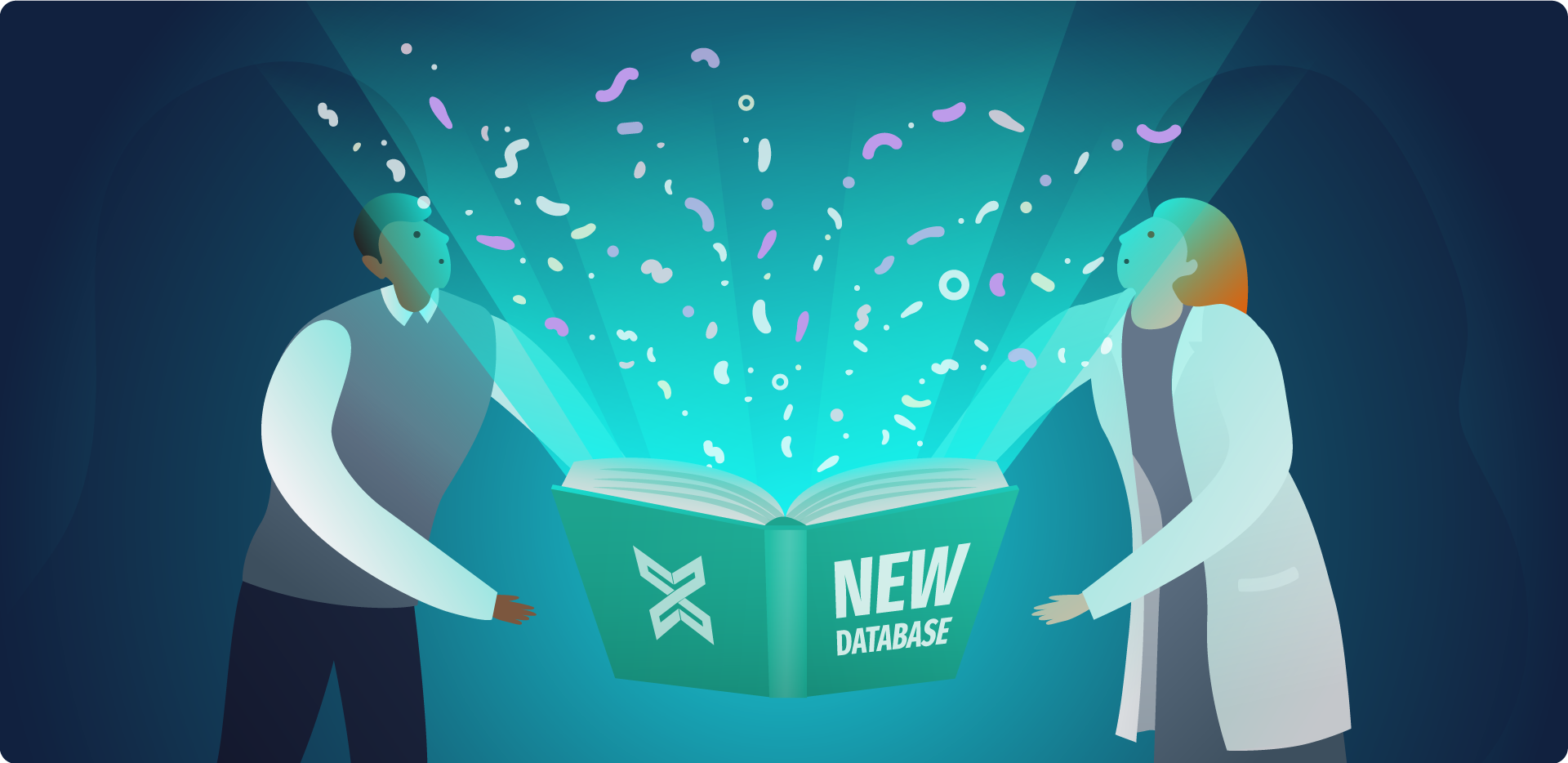 Today we're pleased to announce the latest update and expansion to the One Codex Database! This update includes the most recent revision of the NCBI taxonomy, improves characterization of complex microbial communities, and increases coverage of species present in the mouse gut microbiome. This release marks our most comprehensive database yet, cataloging over 127,000 genomes across more than 80,000 species.
For a comprehensive list of what's included, check out our references page.
Shedding light on microbial dark matter
Our latest release focuses on improving the characterization of microbial dark matter1. These are microbes which are difficult to cultivate and, by extension, study. To achieve this, we've integrated over 12,000 high-quality metagenome assembled genomes (MAGs)2 into this latest release. Reconstructing MAGs is a novel and useful way to provide insights into under-studied phyla, particularly those lacking genomic representatives3. These additional genomes have substantially increased our coverage of mouse gut metagenomes–in some cases the percent of reads classified in these types of samples has increased by as much as 39 percentage points.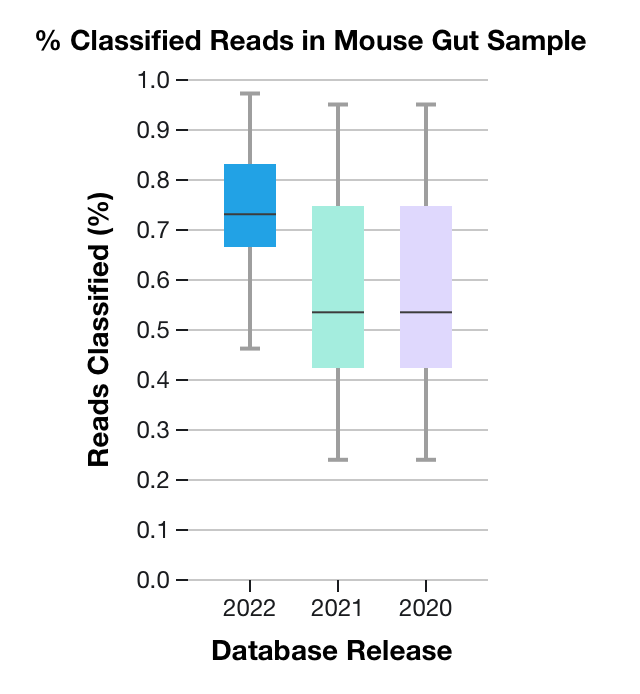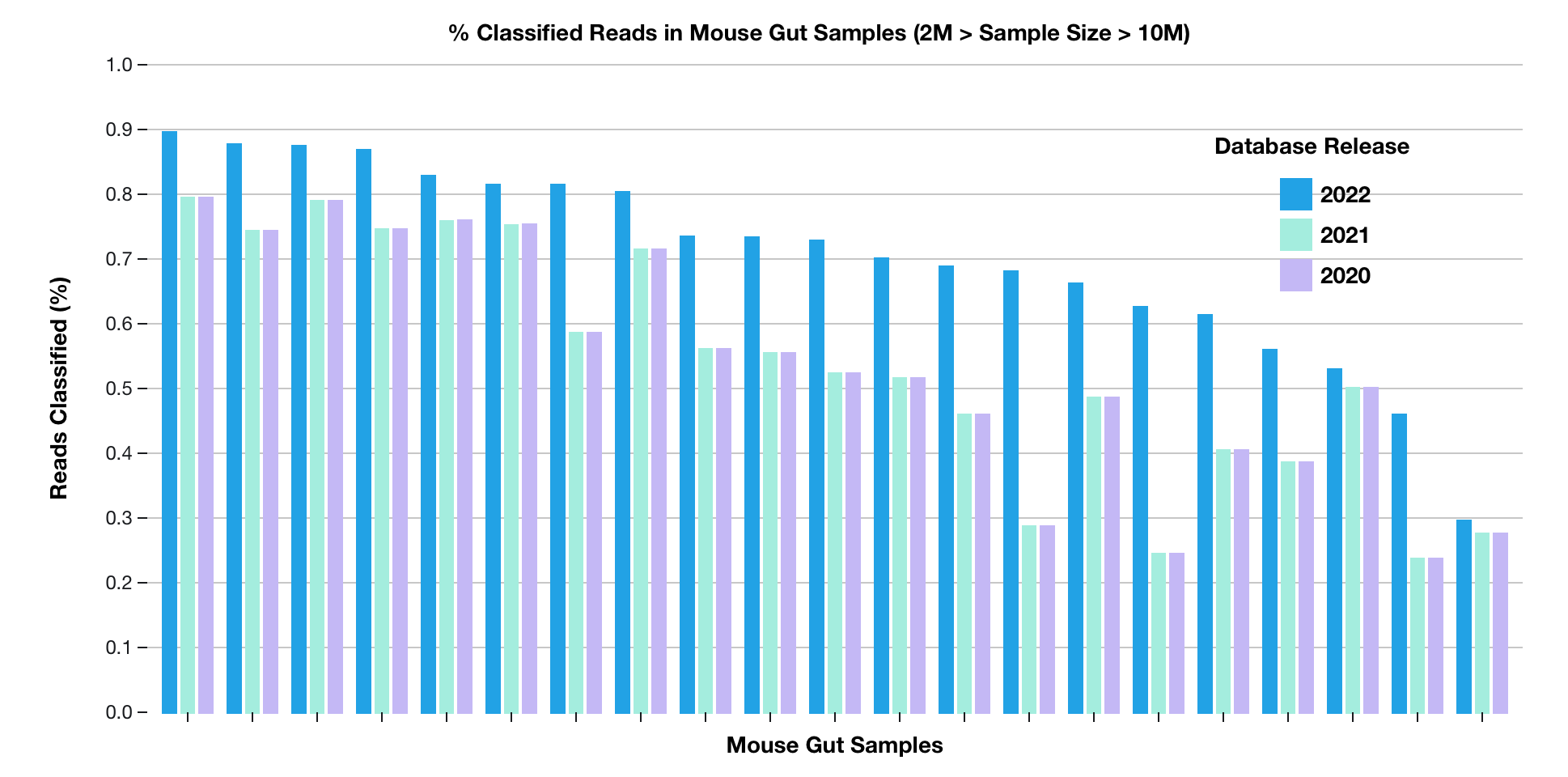 This new release is available to use on all of your samples, including those that have already been classified using any of our previous database versions. To start using this database, sign up for a free One Codex account or log in and re-analyze your existing samples.
References
Jiao, Jian-Yu, Lan Liu, Zheng-Shuang Hua, Bao-Zhu Fang, En-Min Zhou, Nimaichand Salam, Brian P Hedlund, and Wen-Jun Li. "Microbial Dark Matter Coming to Light: Challenges and Opportunities." National Science Review 8, no. 3 (March 1, 2021): nwaa280. https://doi.org/10.1093/nsr/nwaa280.

Beresford-Jones, Benjamin S., Samuel C. Forster, Mark D. Stares, George Notley, Elisa Viciani, Hilary P. Browne, Daniel J. Boehmler, et al. "The Mouse Gastrointestinal Bacteria Catalogue Enables Translation between the Mouse and Human Gut Microbiotas via Functional Mapping." Cell Host & Microbe 30, no. 1 (January 12, 2022): 124-138.e8. https://doi.org/10.1016/j.chom.2021.12.003.

Parks, Donovan H., Christian Rinke, Maria Chuvochina, Pierre-Alain Chaumeil, Ben J. Woodcroft, Paul N. Evans, Philip Hugenholtz, and Gene W. Tyson. "Recovery of Nearly 8,000 Metagenome-Assembled Genomes Substantially Expands the Tree of Life." Nature Microbiology 2, no. 11 (November 2017): 1533–42. https://doi.org/10.1038/s41564-017-0012-7.